Welcome to the webpage of the conference that is organized to honor Ernst Kuwert and his mathematics.
We still expect this conference to take place as an event on-site. But in order to participate in person one needs to be vaccinated or recovered, and additionally one needs to bring a certificate of a negative (rapid antigen or PCR) test ("2G+ rule"). Details about these rules are provided to the participants via Email.
Please keep distance to others and wear a face mask (medical or FFP2) in all buildings.
Registration
Due to Corona restrictions we do not have capacity for more participants.
Registrations after October 14, 2021, will be put on a waiting list.
If you would like to be on the waiting list, please write an Email to
conferenceKuwert@gmail.com
Speakers
Christian Bär (University of Potsdam)
Anna Dall'Acqua (Ulm University)
Gerhard Huisken (University of Tübingen)
Jürgen Jost (Max Planck Institute for Mathematics in the Sciences, Leipzig)
Nicos Kapouleas (Brown University)
Rob Kusner (University of Massachusetts Amherst)
Tobias Lamm (Karlsruhe Institute of Technology)
Yuxiang Li (Tsinghua University)
Elena Mäder-Baumdicker (TU Darmstadt)
Andrea Malchiodi (Scuola Normale Superiore)
Andrea Mondino (University of Oxford)
Marius Müller (University of Freiburg)
Manuel Ritoré (University of Granada)
Tristan Rivière (ETH Zurich)
Julian Scheuer (Cardiff University)
Armin Schikorra (University of Pittsburgh)
Miles Simon (Otto von Guericke University of Magdeburg)
Michael Struwe (ETH Zurich)
Financial support for young participants
The decisions about funding for young participants have been made. The applicants received an Email with information.
Poster
Below you find the poster of this conference. Just click on the little version of it to get a pdf version.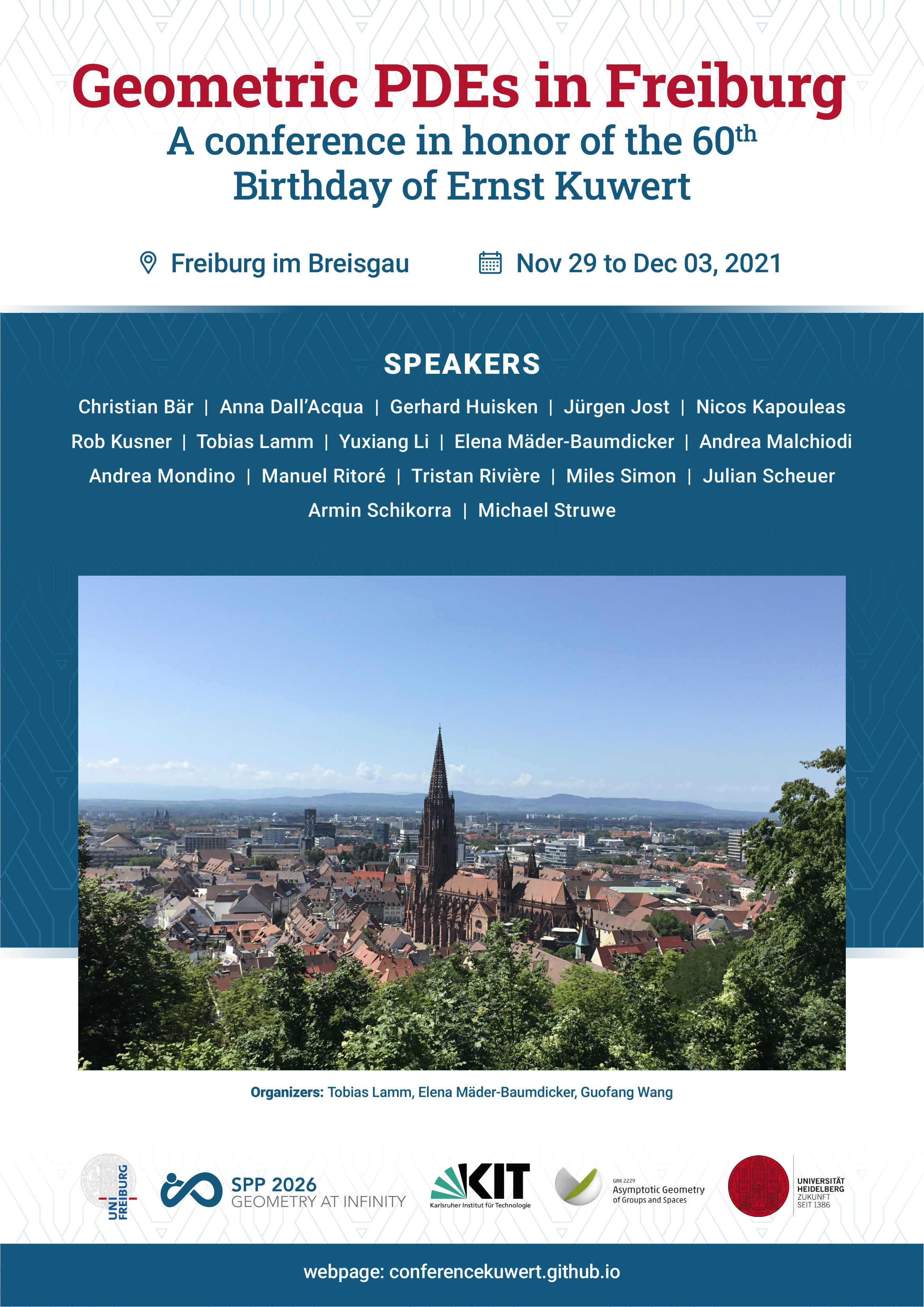 Organizers
Tobias Lamm (Karlsruher Institut für Technologie)
Elena Mäder-Baumdicker (Technische Universität Darmstadt)
Guofang Wang (Albert-Ludwigs-Universität Freiburg)
Sponsors